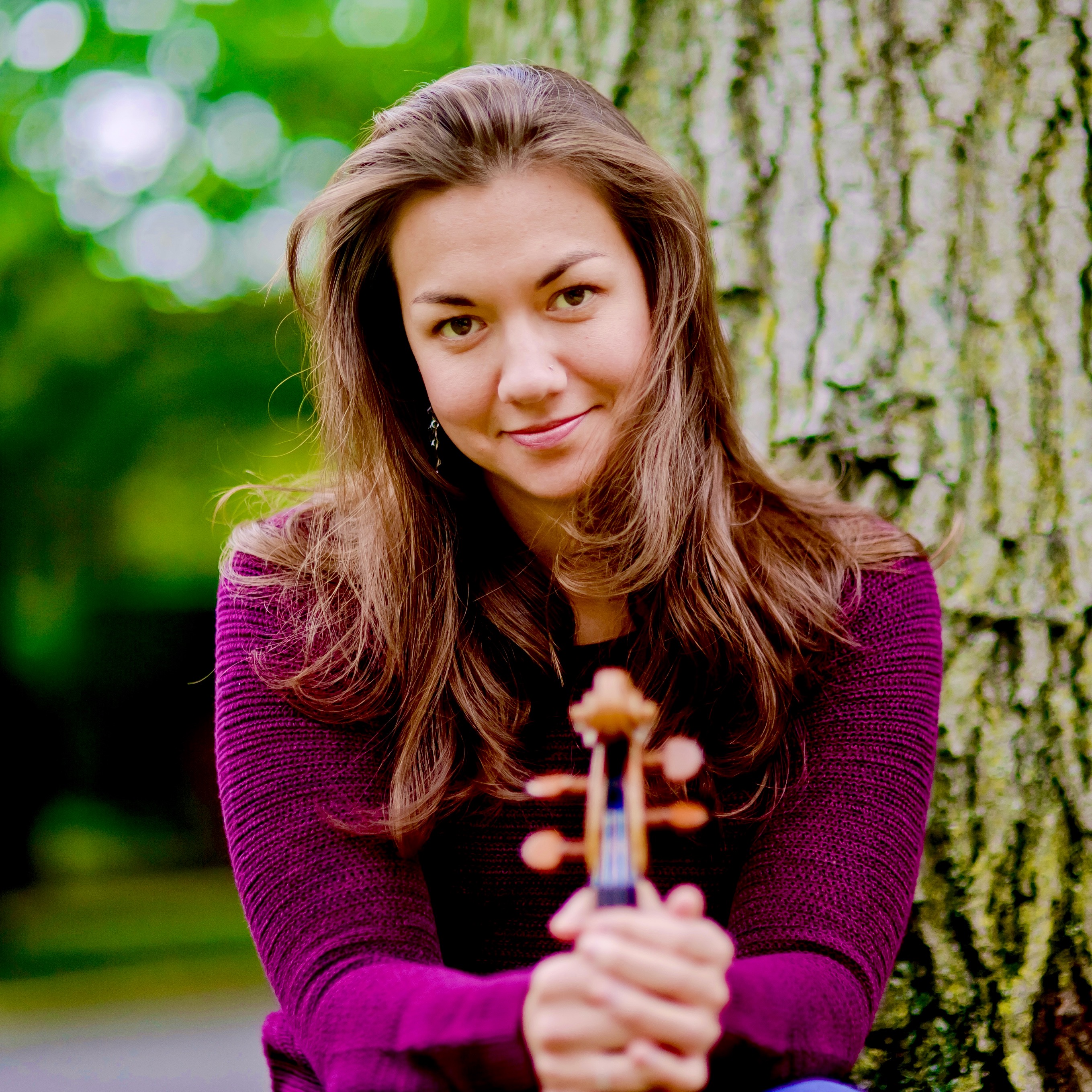 Noted by The New York Times for giving "the proceedings an invaluable central thread of integrity and stylishness," violinist Ariana Kim made her New York recital debut at Carnegie's Weill Hall during her doctoral studies at Juilliard and is now a tenured a professor at Cornell University.  At 16, Ariana made her debut with the St. Paul Chamber Orchestra and at 24 was appointed acting concertmaster of the Louisiana Philharmonic in New Orleans; she has since become one of the most respected artists of her generation.   
  
As a violinist of the Aizuri Quartet she was awarded the 2017 Osaka International Competition Grand Prize, the 2018 M-Prize, and a 2019 GRAMMY® nomination for the album Blueprinting.  During her tenure, the ensemble served as a Quartet-in-Residence at the Metropolitan Museum of Art and presented recitals at Suntory Hall Tokyo, the University of Toronto, Duke University, and the Kennedy Center, among others.  Equally devoted to contemporary and long-established literature, Ariana held a 10-year position with the New York new music ensemble Ne(x)tworks and is currently in her 17thseason with The Knights; their 2016 recording …the ground beneath our feet… on which Ariana is a featured soloist alongside Guillaume Pirard in Steve Reich's Duet, was chosen as NPR's "Songs We Love" for the year.  During the COVID-19 pandemic, Ariana embarked on a social justice project with composer Steve Heitzeg and actor-narrators Lou and Sarah Bellamy to create a work shedding light on police violence and community building; the project culminated in a multi-media work for solo violin, spoken word, and video footage of the protests and street art that emerged during the demonstrations of 2020. 
  
Recently having returned from a sabbatical year in South Korea, Ariana spent seven months studying the gayageum (an ancient zither-style instrument), performing throughout the country, and presenting master classes at Seoul National University.  She was appointed co-artistic director of the Chamber Music Society of Minnesota and Paesaggi Musicali Toscani in Siena, Italy in 2019.  In the fall of 2023, Ariana will begin a Carnegie Hall residency with The Knights, embark on a recital and master class tour at Duke University, Bucknell University, and the Clark Art Institute, return to Seoul for a recital with pianist Hyo-Jung Huh, and present the world premiere of Piyawat Louilapprasert's Violin Concerto in Bangkok, Thailand.  In early 2024, she looks forward to returning to her native Twin Cities for performances with The Great Northern and serving as a host for This Is Minnesota Orchestra, the ensemble's live PBS and MPR broadcast. Her upcoming solo album – exploring improvisation through the lens of Mozart and Beethoven sonatas alongside world folk music – is set for release in the fall of 2024.