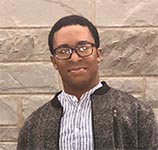 Undergraduate Resident Fellow
B.S. Candidate in Human Development, Concentration in Neuroscience
Nnamdi is a junior majoring in Human Development with a concentration in neuroscience. At Cornell Human Neuroscience Institute, he works with Dr. Valerie Reyna to investigate whether judgment errors in older adults are related to mild cognitive impairment (MCI), a precursor of dementia. The long-term goal of his research is to create a clinical test that provides early diagnosis of dementia.
Nnamdi volunteers weekly at the local nursing home, Cayuga Ridge, where he helps reduce social isolation by engaging in fun activities with elderly residents. After college, he plans to obtain an MD in neurology and hopes to treat dementia patients in underserved communities.
In addition, Nnamdi is a Peer Advisor at Cornell Career Services (CCS). His main duty at CCS includes resume/cover letter review. So, if you ever need help with writing up a resume or cover letter, or you already have one and simply need someone to take a look at it, Nnamdi is always available to help!
Furthermore, he is a huge fan of the Music Department. Nnamdi attends nearly every concert of the Cornell Orchestra, Glee Club, and Chorus, and he looks forward to enjoying this school year's concerts with any interested residents.